Goldman Sachs believes the U.S. economy will slow significantly in the second half of next year as the Federal Reserve continues to raise interest rates and the effects of the tax cut fade.
"Growth is likely to slow significantly next year, from a recent pace of 3.5 percent-plus to roughly our 1.75 percent estimate of potential by end-2019," wrote Jan Hatzius, chief economist for the investment bank, in a note to clients on Sunday. "We expect tighter financial conditions and a fading fiscal stimulus to be the key drivers of the deceleration."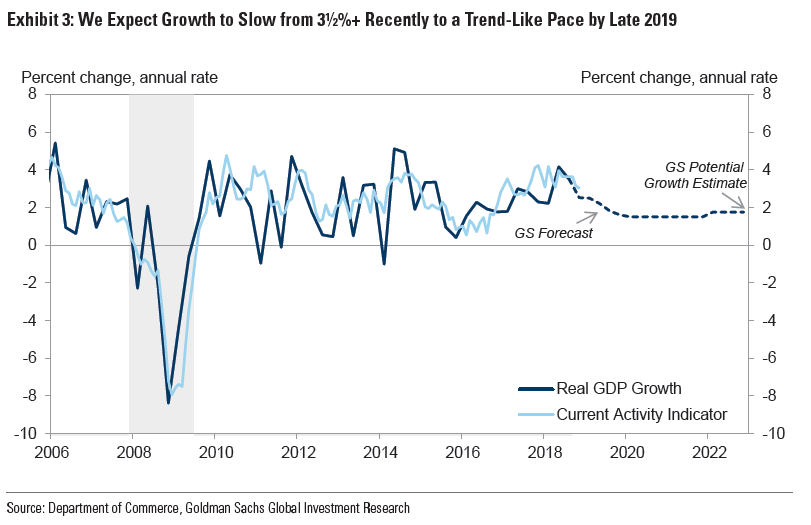 The bank sees the economy expanding at 2.5 percent in the fourth quarter of this year, down from 3.5 percent last quarter. Real GDP growth will come in at 2.5 percent again in the first quarter of 2019, but then will slow to 2.2 percent, 1.8 percent and 1.6 percent in the next three quarters, respectively.
Goldman sees the Fed raising rates this December and then four more times in 2019. It will do so because inflation will reach 2.25 percent by the end of next year because of tariffs and increasing wages, the bank predicted, noting there was also a chance of an "inflation overshoot."
"With a large overshoot of its labor market target under way, the FOMC will likely be reluctant to stop until it is confident that the unemployment rate is no longer on a downward trajectory, a point we expect to reach only in early 2020," the note said.
But the bank doesn't believe growth will actually turn negative anytime soon.
"For now, neither overheating risks nor financial imbalances — the classic causes of US recessions — look worrisome," Hatzius wrote. "As a result, the expansion is on course to become the longest in US history next year, and even in subsequent years recession is not our base case."
— With reporting by CNBC's
Michael Bloom
.
WATCH: How the Fed could cause the next recession, according to Gary Shilling